Dear Members and friends of FinnCham,
I'm writing this newsletter from Finland. Finally, after almost three years, the travel policy changes have made it easier to travel to Finland and back to China. Also, the number of direct flights between the two countries is increasing, and prices are gradually coming down. There has been a chain of easing travel restrictions and shortening quarantine times. That is all good news for those of us who are doing business in China.
At the same time there has been some increase in Covid cases scattered in different parts of the country. It has made domestic travel very unpredictable within the mainland. No one knows whether it is possible to stick to travel plans, or whether you end up quarantined somewhere. People are in somewhat of an emotional quandary about their future.
China faces the dual challenge of balancing COVID-19 mitigations with supporting economic growth. China is facing obvious economic trouble at the moment. There are many warning signs: covid-related shutdowns, falling housing prices, dearth of jobs for university graduates, continuous supply chain problems, and so on. The government is almost certain to miss its target of 5.5 percent GDP for 2022. Based on a
Trading Economics
report, during the first half of the year China's economy grew only 2.5%.
World Bank
estimates China's GDP growth to slow down to 4.3% in 2022. Yet Finnish companies in China seem to do well, and there are also new business opportunities between companies in both countries. Hopefully we can share their success stories later. For the newcomers there are plenty of online fairs and pitching opportunities, useful especially for those who wish to test their products' attractivity to the Chinese market.
International science and technology cooperation and exchange is an important part of China's developmental policy, and it's needed now more than ever. Two flagship events on the field are CIFTIS (China International Fair for Trade in Services) and ZGC Forum (Zhongguangcun Forum), both held this September in Beijing. CIFTIS is a comprehensive, state-level event with a global reach, co-hosted by the Ministry of Commerce of the People's Republic of China and the People's Government of Beijing Municipality. It is the first and by far the largest comprehensive fair for service sector solutions globally. It has become an important forum for spreading ideas, connecting supply and demand, sharing business opportunities, and promoting common developments in the field. This year the fair is held Sept 1st to 5th, and Finland is once again well represented by seven Finnish companies in the FinnCham Beijing booth. You can download our booth introduction
HERE
. FinnCham also have several speaker spots for sharing Finnish know-how in winter sports, medical industry, and energy/carbon-neutrality industries. In CIFTIS FinnCham will sign a MoU with the Capital Intellectual Property Services Association, which will bring great benefits to member companies.
FinnCham is also joining the ZGC Forum. This is held Sept 22nd to 27th. It will attract top institutions and experts to discuss topics such as energy security and carbon neutrality and will display cutting-edge technologies in more than 130 events. The theme of this year's forum is "Open cooperation for a shared future" and the events include conferences, technology transactions, exhibitions, achievement announcements, business contests and other activities-both online and offline. The forum has gained increased influence globally and become a national platform for the world's scientific and technological innovation exchange and cooperation.
Last but not least, we will have a cooperation conference at Daxing Airport Economic Zone, most likely in the end of September. In addition to the aviation sector, there will be opportunities for Finnish companies in sectors like medical and life sciences, metaverse, intelligent manufacturing (IoT) etc. Invitations to the focus sectors will be sent soon.
With these, and many other events, we are going towards autumn, and hopefully towards brighter shared future in China.
Our August guest writer is Glaston, a Finnish company which has been manufacturing intelligent glass for some of the most well-known buildings in China for 20 years already.
Ulla Nurmenniemi
Executive Director
FinnCham network tightens cooperation globally
Global FinnCham hybrid gathering was held in Helsinki August 26, hosted by Finland Central Chamber of Commerce Anne Hatanpää and Ville Vuorisalo. A handful of representatives managed to gather physically, others online. The theme was cooperation. Best practices and ideas on supporting Finnish businesses were shared in a vivid discussion.
Innovation competition for wastewater- and energy solutions
Beijing Enterprises Water Group Limited (BEWG) is a flagship enterprise devoted to the recycling of water resources and the protection of water ecology subordinated to BG. BEWG is a comprehensive and leading professional water and environment service provider with its business covering industrial investment, design, construction, operation, technical services and capital operation in full industrial chain. It ranks the top tier in the industry in China in terms of total assets, total revenues and water treatment capacity.
They have opened a competition for eco-environmental solutions, aiming to cooperate in China market with these companies. Competition is for enterprises, startups, talents (alumni)....
For more information contact ulla@finnchambj.org
Zhongguangcun Frontier Technology Innovation Competition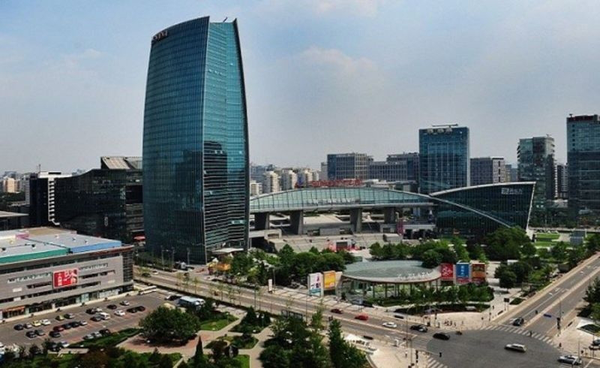 Zhongguancun Life Science Park—a premier research and industrial park located in Beijing, China—is a leader in driving the local growth and expansion of R&D and innovation in the life sciences. Covering over 2.5 square kilometers, the park is host to over 500 companies and 185 research teams led by top researchers in their fields. With an unwavering commitment to innovation, the park provides a launching pad for new, cutting-edge research and technology companies, particularly in the areas of drug development and genetic testing. As it looks to the future, Zhongguancun Life Science Park plans to expand its footprint and funding to support a greater number of companies, extending its impact from Beijing to the rest of China with the ultimate goal of becoming an international innovation capital for bioscience R&D.
Zhongguangcun Park has just opened a Frontier Technology Innovation Competition with lucrative prizes. If you are interested in to get more information, contact ulla@finnchmbj.org.
There's also a big listed environmental technology company which is looking cooperative partner from Finland on following areas:
1. In the field of recycling, for example, in the dismantling process of end-of-life vehicles (ELV), solutions for metal regeneration and power lithium battery recovery that meet EU standards. The range of recycling they focus on includes steel, cast iron, non-ferrous metals, alloys, plastics, paper and other recyclable materials.
2. In the field of renewable energy development and utilization. They focus on solutions related to hydrogen energy, biomass energy, and geothermal energy.
3. In the sustainable field of smart cities. They hope to provide advanced solutions to traditional industrial cities in China.
Everyday Sisu by Ms Katja Pantzar
Time: September 7 at 4pm-4:45pm CST
Guest writer: Glaston – Towards a visually comforting, safer and more sustainable tomorrow
Glaston is the glass processing industry's innovative technology leader supplying equipment, services and solutions to the architectural, automotive, solar and display industries. We operate globally with manufacturing, services and sales offices in 10 countries and its shares (GLA1V) are listed on NASDAQ Helsinki Ltd.
For 152 years, Glaston is committed to providing its clients with both the best know-how and the latest technologies in glass processing, with the purpose of building a better tomorrow through safer, smarter, and more energy efficient glass solutions. We also supports the development of new technologies integrating intelligence into glass.
Glaston started its operation in China since 2001. Ramping up the production at Glaston's factory in Tianjin, currently manufacturing heat treatment and insulating glass equipment. With China R&D center, Quality & test lab and huge spare parts stock in Tianjin, we're able to support hundreds of Glaston product lines in use in China & Asia pacific.
Photo below: Glaston Tianjin factory
Over the past 20 years, Glaston China supplied more than 300 tampering lines & 300 IG lines to 28 countries over the world, including China. It can be said that most of China's top glass enterprises are our long term customers. The glass made by Glaston machines use in landmark buildings, such as Olympic venues, Beiijng Airport, Shanghai Center, Guangzhou TV Tower, etc.
Photo below: Glaston IG Jumbo
Lately, Glaston's Board of Directors has approved a plan to establish the production of Automotive pre-processing equipment for standard products at Glaston's factory in Tianjin. The aim is to serve customers in the globally largest automotive market with local machine production. The plan is in line with Glaston's strategic focus to grow its business in China and improve operational efficiency.
"In China for China. Expanding the role of our Tianjin facility will enable us to reach a new automotive glass processing customer segment in China as well as strengthen our position with existing customers. Proximity to the customer is important when addressing our growth ambition in the Chinese market. Glaston has been present in China for more than 20 years. We have a long experience and high readiness and flexibility to serve customers with local production, delivery and services." says Pekka Nieminen, General Manager of Glaston China.
We continually evaluate and improve the products and services of our three business areas
Insulating Glass Technologies
Heat Treatment Technologies
Automotive and Display Glass Technologies
to ensure sustainability in glass processing productivity, which gives our customers a competitive advantage. Knowledge, experience and employees, who are proud of their achievements, make all this possible.
Author:
Pekka EJ Nieminen
General Manager
Glaston China
FinnCham Beijing is part of Team Finland in China, and an outstanding platform for all Finnish businesses in China. For those companies which need more visibility, we have launched a
Premium Membership
.
It's an upgrade from normal membership, as you can see from the table below.
For those companies in Finland, who are planning to expand their businesses to China, or are in the early stage and don't have an office in China yet, we have a
distant membership
.
A very cost-effective way to make your company known to a large audience, and get essential contacts for your future.
Not a member yet: Join us
HERE

Premium Membership benefits:
Get your logo on frontpage of FinnChamBJ website

Get your logo on all newsletters and event invitations

Get an advertisement to FinnChamBJ webpage

Write an article to FinnChamBJ Newsletter once a year

Organize an event for other members and other people using FinnChamBJ event platform once a year
PLUS normal Membership benefits:
Option to join FinnCham Premium Health Insurance Plan

Network opportunities with all other member companies

Keep updated what's happening in China-Finnish business

Make new business contacts

Access FinnChamBJ events with member price or free of charge, access member-only events

Enjoy discounts of various service and product providers

Get your company logo, description and key products to membership directory in FinnChamBJ website
Proxy membership benefits:
Get monthly newsletter

Get one article to newsletter when joining

Network opportunities with all other member companies through FinnChamBJ

Keep updated what's happening in China-Finnish business

Make new business contacts

When visiting in Beijing, access events with member price or free of charge, access member-only events

Enjoy discounts of various service providers in Beijing (e.g.hotels)

Get company logo, description and key products to membership directory on FBCB website

Option to join FinnCham Premium Health Insurance Plan
CONTACT
for more information:
Ulla Nurmenniemi, Executive Director, FinnCham
ulla@finnchambj.org
Meet the board term 2022-2023
FinnCham Beijing's mission is to help Finnish companies to succeed in China
FBCS, FBCGD and FinnCham HK events: Click the logo below
Premium memberships and strategic partners