Dear Members and friends of FinnCham,
As I'm writing this, Beijing is experiencing an intense heat wave. Though I seem to be one of the few who really enjoy it, as most people are escaping indoors to cool down. However, talking about this extreme weather with people is a nice change of pace from the usual daily topic, namely China's dynamic zero Covid policy. This policy is making our lives and economy much more challenging compared to most places outside China's borders.
Just a couple weeks back we had an event with Plenum, an independent research firm covering the Chinese economy, financial markets, policies and politics. The founders are some of the best experts on the field now in China and the news they shared wasn't too good. Based on their estimation, the policy will remain in effect even after November 2022 when the Chinese Communist Party national congress convenes to elect its new leader. Another sign suggesting this is that China has pulled out from hosting the 2023 Asian Football Confederation (AFC) Asia Cup. Installing PCR testing kiosks across cities to test and monitor cases of infection also suggests that China may well be planning to live with the zero-COVID policy over the long term. It seems that gradually quarantine times are becoming shorter for inbound travelers, but based on
China Daily article
,
cutting quarantine time should not be interpreted as a relaxation of precautions.
Despite the exceptional circumstances, students in China have taken the national college entrance exam (also known as
Gaokao
) in the beginning of June with a record number of 11.93 million registered students (
China Global Times
). The
epidemic generation
has been attending classes mostly online throughout high school due to the constant closure of onsite schooling, adding extra pressure on the students. At the other end of education, based on
CNN
, this year's 10.76 million college graduates are facing a shrinking job market. Youth unemployment in urban areas is at its highest. The government plans to offer tax incentives and loans for college graduates who start businesses serving the rural community. Similar benefits will be offered to existing small businesses in villages that hire college graduates, including fields such as housekeeping and elderly care. Decreased job opportunities are largely the result of localized COVID-19 outbreaks as well as some enterprises undergoing structural transformation. The return of Chinese students from abroad has also further aggravated competition.
In the middle of all these obstacles, there is still good news. Despite all problems with constant lockdowns, supply chain challenges, and interruptions in production, many Finnish companies face growing demand from customers and sales are still climbing up. China's domestic market is big and prolonged uncertainty has forced many companies to adjust, becoming more agile. Good news were shared by FinnCham Board members at dinner hosted by Ambassador Mikkola.
For newcomers, there is a growing number of online matchmaking events and new technology competitions run by local governments and big Chinese companies. Last Sunday we participated Langfang International Economic and Trade Fair hosted by Ministry of Commerce and Hebei government, and two days later Jilin-Finland online Economic and Trade Fair organized by Business Finland together with Jilin government. Below you can find some of the ongoing competitions and opportunities. As our world is becoming increasingly virtual, surprisingly many China entry activities can be done online now.
Our June-July guest writer is
Stora Enso
, producing packaging for consumer products in China – including carton boxes, rigid boxes, corrugated boxes, paper bags, user manuals, and molded fiber. Their capacity is 1
billion pieces of packaging products annually
! Stora Enso is a great example of an entrant in a more traditional industry that is doing well in China. Read from their story below what are the key factors for their success!
While starting our summer break, we still have some local events and our online language courses in July. The Chinese usually have their summer vacations in August, so we will also resume full activity in September.
On the behalf of FinnCham, I wish you all a relaxing Summer
Ulla Nurmenniemi
Executive Director
Innovation competition for wastewater- and energy solutions
Beijing Enterprises Water Group Limited (BEWG) is a flagship enterprise devoted to the recycling of water resources and the protection of water ecology subordinated to BG. BEWG is a comprehensive and leading professional water and environment service provider with its business covering industrial investment, design, construction, operation, technical services and capital operation in full industrial chain. It ranks the top tier in the industry in China in terms of total assets, total revenues and water treatment capacity.
They have opened a competition for eco-environmental solutions, aiming to cooperate in China market with these companies. Competition is for enterprises, startups, talents (alumni)....
For more information contact ulla@finnchambj.org
Zhongguangcun Frontier Technology Innovation Competition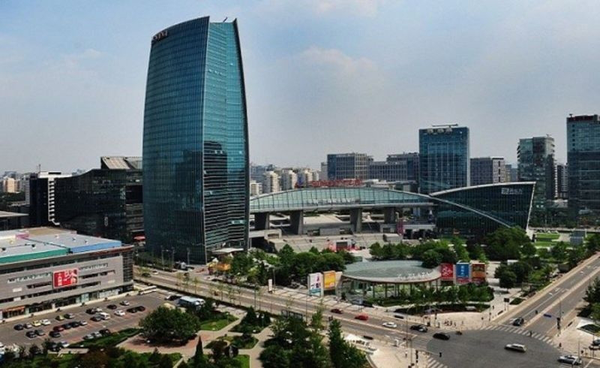 Zhongguancun Life Science Park—a premier research and industrial park located in Beijing, China—is a leader in driving the local growth and expansion of R&D and innovation in the life sciences. Covering over 2.5 square kilometers, the park is host to over 500 companies and 185 research teams led by top researchers in their fields. With an unwavering commitment to innovation, the park provides a launching pad for new, cutting-edge research and technology companies, particularly in the areas of drug development and genetic testing. As it looks to the future, Zhongguancun Life Science Park plans to expand its footprint and funding to support a greater number of companies, extending its impact from Beijing to the rest of China with the ultimate goal of becoming an international innovation capital for bioscience R&D.
Zhongguangcun Park has just opened a Frontier Technology Innovation Competition with lucrative prizes. If you are interested in to get more information, contact ulla@finnchmbj.org.
There's also a big listed environmental technology company which is looking cooperative partner from Finland on following areas:
1. In the field of recycling, for example, in the dismantling process of end-of-life vehicles (ELV), solutions for metal regeneration and power lithium battery recovery that meet EU standards. The range of recycling they focus on includes steel, cast iron, non-ferrous metals, alloys, plastics, paper and other recyclable materials.
2. In the field of renewable energy development and utilization. They focus on solutions related to hydrogen energy, biomass energy, and geothermal energy.
3. In the sustainable field of smart cities. They hope to provide advanced solutions to traditional industrial cities in China.
Everyday Sisu by Ms Katja Pantzar
Time: September 7 at 4pm-4:45pm CST
Guest writer Stora Enso: Producing high-quality packaging boards for Chinese customers since 2016
Our story in China begins when Stora Enso established eucalyptus plantations in Guangxi region, Southern China in 2002. Since 2016 Beihai Mill started operations. Today the market is requesting high quality materials for premium consumer packaging and places high value on food safety – and in recent years also growingly on the packaging sustainability.
The Beihai mill is a most modern and efficient facility producing premium carton boards such as liquid packaging boards and other packaging boards suitable for frozen and chilled food. Currently
Stora Enso employs nearly 400 people at the mill and more than an equal number in the forestry operations. The site in Guangxi is part of Stora Enso's Packaging Materials, developing and producing high-quality renewable packaging boards globally. The company strives to be the expert partner in renewable and circular packaging, also in China.
What is then perceived as high-quality in the Chinese consumer packaging market? We know that traditionally the Chinese consumers associate paperboard with premium, high quality. Colors, special finishes, branding, elegant impression, and the overall appearance of the packaging are important to consumers. Overall, the choice of packaging material is seen to define the quality of the product packed inside. Carton is well placed to meet these criteria in many end-uses.
In addition to appearance, our team recognizes the continued importance of food safety. When it comes to food packaging, consumers are extremely concerned about health issues and food safety. Many are willing to pay more for food safe packaging and prefer portion packs that guarantee the hygiene and safety of products. Food safety is the number one concern for the Chinese consumers. Followingly, these qualities are very important to brand owners and packers of the food and drink and our team supports converters and brand owners daily in finding the right packaging for their products.
Another strong trend is packaging sustainability, which is gaining ground on all global markets including China. Making packaging more environmentally friendly is very much at the heart of Stora Enso. We believe that everything that is made from fossil-based materials today can be made from a tree tomorrow. Sustainability and responsible business practices are embedded in our strategy.
Our efforts have been recognized in China. Our pulp and board production are fully based on our own forests, that are certified with the Forest Stewardship Council (FSC) sustainable forest management. Already in year 2019 we were awarded with the FSC Asia Pacific Leadership Award as recognition of our contribution to responsible forest management in China. In addition, in 2020 we received the first ever granted "Green Factory" award for a forest company in Guangxi. These have been great achievements by the team and have also supported the good work even further.
What do these key trends mean for our packaging products? To the growing demand of sustainable solutions, we offer our packaging materials that are made of sustainably sourced renewable wood fibers. In addition to their safety and visual appearance they can also help replace plastic products, as they can be applied to direct food contact thanks to their structure and specialized coatings. Today our boards are suitable to replace plastic bottles for juices and milk, plastic single portion cups for yogurt and even many more applications in frozen and chilled food packaging.
This is of course a very interesting development that is moving forward step by step. All in all, the special products from Stora Enso and the Beihai mill are well suited to meet the demands in the Chinese market, complementing the offering in an important way.
Stora Enso is a Finland and Sweden based leading provider of renewable products in packaging, biomaterials, wooden construction and paper, and one of the largest private forest owners in the world. Stora Enso has approximately 22,000 employees and total sales in 2021 were EUR 10.2 billion.
Author:
Pentti Ilmasti 叶万霆
SVP, Packaging Materials China
Stora Enso, Division Packaging Materials
FinnCham Beijing is part of Team Finland in China, and an outstanding platform for all Finnish businesses in China. For those companies which need more visibility, we have launched a
Premium Membership
.
It's an upgrade from normal membership, as you can see from the table below.
For those companies in Finland, who are planning to expand their businesses to China, or are in the early stage and don't have an office in China yet, we have a
distant membership
.
A very cost-effective way to make your company known to a large audience, and get essential contacts for your future.
Not a member yet: Join us
HERE

Premium Membership benefits:
Get your logo on frontpage of FinnChamBJ website

Get your logo on all newsletters and event invitations

Get an advertisement to FinnChamBJ webpage

Write an article to FinnChamBJ Newsletter once a year

Organize an event for other members and other people using FinnChamBJ event platform once a year
PLUS normal Membership benefits:
Option to join FinnCham Premium Health Insurance Plan

Network opportunities with all other member companies

Keep updated what's happening in China-Finnish business

Make new business contacts

Access FBCB events with member price or free of charge, access member-only events

Enjoy discounts of various service and product providers

Get your company logo, description and key products to membership directory in FinnChamBJ website
Proxy membership benefits:
Get monthly newsletter

Get one article to newsletter when joining

Network opportunities with all other member companies through FinnChamBJ

Keep updated what's happening in China-Finnish business

Make new business contacts

When visiting in Beijing, access events with member price or free of charge, access member-only events

Enjoy discounts of various service providers in Beijing (e.g.hotels)

Get company logo, description and key products to membership directory on FBCB website

Option to join FinnCham Premium Health Insurance Plan
CONTACT
for more information:
Ulla Nurmenniemi, Executive Director, FinnCham
ulla@finnchambj.org
Meet the board term 2022-2023
FinnCham Beijing's mission is to help Finnish companies to succeed in China
FBCS, FBCGD and FinnCham HK events: Click the logo below
Premium memberships and strategic partners